'Little does he know the spirit of the British nation, or the tough fibre of the Londoners, have been bred to value freedom far above their lives' Winston

Churchill in September 1941
Monday 7th September 2015 marks the 75th Anniversary of the start of the Blitz which was the period of sustained strategic bombing of the United Kingdom by Nazi Germany during the Second World War. Throughout the 246 days the German Luftwaffe dropped over a million incendiary bombs (bombs designed specifically to start fires) and an estimated 50,000 tonnes of high explosive bombs across 16 cities resulting in an estimated 30,000 deaths, many more injured and 60% of London's buildings being damaged or destroyed, leaving approximately 1.5 million people homeless.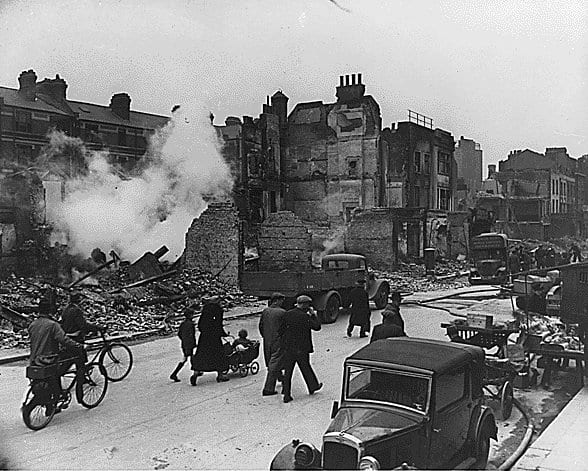 With such a significant event in our history, we wanted to take a look back and compare property in London before the blitz and now to see how far London has come in the last 75 years.
Property Ownership
Firstly we look at housing trends pre blitz. Throughout London in 1939 there was more of a rental culture approximately 73% of people renting with 20% – 50% of the annual household income being allocated as rental costs.
2015, in comparison, shows approximately 26% of people renting in London which is a rise of almost 10% in comparison to 2001 figures showing how the rental culture is certainly returning but not to pre blitz extents. Tenants in 2015 are typically spending between 60% – 70% of their household income on rental costs. Therefore highlighting the extent of increased rental costs in the capital.

Property Cost
Based on government figures at the time, a house within London in the 1930's cost an average of £500 but bear in mind that salaries for skilled worked being approximately £175 per year at the time, this means that housing was on average 2.8 times the annual salary.
According to Land Registry, the average house price in London in 2015 is £481,000 with the average salary being £34,500, 13.9 times the annual salary.

1930's Estate Agents Advert

2015 Sales Brochure Example
Housing Development.
Properties were being developed at a very fast rate in the 1930's, peaking in 1934 with almost 290,000 being built in those 12 months in England. Typically around the 1930's the standard property being developed was still houses although there was a distinct rise in the number of flats now being built. The architectural style in the 1930's tended to be Tudorbethan, signified by its gabled, steeply sloping roofs, typically thatched but now slated.



Tudorbethan Property Style
In 2014, the number of homes built in England was only 140,850, slightly under 150,000 less than those levels reached in 1934. The reduction in land and the increase in population within London between the 1930's and the current day has led to an overall shift in the house / flat ratio with 70% of new properties to be completed being houses. There is an overall shift in the architectural focus in 2014/15 too with property developers pushing the envelope in terms of innovation whilst local councils bringing in measures to reduce carbon footprints levels obligating the use of communal heating networks and photovoltaic panels (solar panels). Two examples of the innovative designs in 2015 are:

Strata Building with wind turbines on the roof
Murray Grove, world's tallest modern timber residential building
P.S Since London is a real estate powerhouse…….here is proof
The most expensive property in London is set to be sold, for a staggering £280 million.




Located just south of Hyde Park, the property totals 60,000 sq ft with 45 bedrooms, a large swimming pool, industrial-size catering kitchen, underground parking and several lifts. It even comes ready with over 100 gold plated tissue boxes, well why wouldn't it after all for that price!
Come and find out how we can manage your building today